Driver 339 Alf Elsheikh receiving his award from his daughter Maz who works in our customer service department.
Alf has been working at Direct Couriers for the past 18 years as a subcontract driver, he is an extremely loyal and respectful driver. Alf's current role is an important one in our business he works full time for Schenker /Jetstar which require him to be fully inducted for Airside and Asic access. He is working seven days a week at times and never complains, turns up every day and gets the job done. Well done Alf keep up the good work!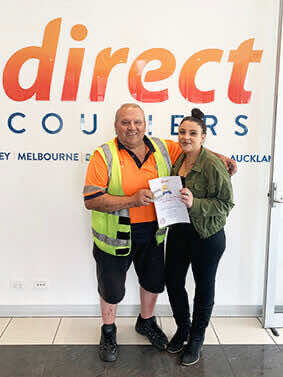 Driver 577 Hayden Hirmiz with Fleet Manager Steve Burns.
We have given Hayden this award due to his sense of community spirit. During the recent horrendous bushfires, Hayden and a group of his friends organised a convoy of trucks to take clothes and food to the drop off point in Bairnsdale which was well received. Hayden we are very proud of your efforts in supporting the community and your ability to help organise such an event in a time of need for so many people. I am sure everyone at Direct would like to say well done and thank you.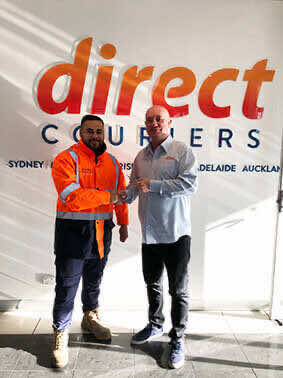 Driver 108 Andy Tan Truong with Fleet Manager Steve Burns.
Andy is our driver of the month in our retail fleet. Andy has been at Direct Couriers for over 10 years and is a very loyal and experienced driver who is always on the go in our busy retail fleet.
Andy's run takes him all over Melbourne and he gets it done with a minimum of fuss. Great work Andy, very well deserved award.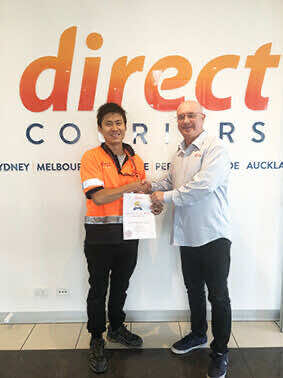 Sea freight driver 1309 Tim Gligorevic with Second chair Darcy Thomas.
Tim has been with Direct Couriers in our sea freight fleet for the past 15 years. He has come a long way in the role. Noticeably he is extremely loyal to the company and gets the job done day in and day out. Congratulations and well done Tim.